Newslab reports on the boundless love of Russian youth for crypto-fascist VladimirZhirinovsky, voted one of Russia's sexiest men and a key figure on the Russian legislature. The headline reads: " Virtually all students and teachers of Krasnoyarsk Medical Academy came to meeting with Vladimir Zhirinovsky."
Deputy Chairman of the State Duma, leader of the Liberal Democratic Party of Russia Vladimir Zhirinovsky met with students and teachers of the Krasnoyarsk State Medical Academy April 2.
Along with LDPR leader Vladimir Zhirinovsky, the State Duma deputies of LDPR, and the Krasnoyarsk Territory coordinator Vasily Zhourko participated in the meeting. Several thousand students and virtually all the teachers came to the meeting held in the main academic building. There were no free seats in the assembly hall. People were standing in the gangways and on the steps.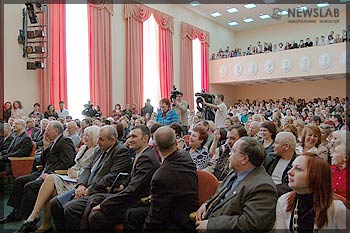 In his greeting speech Zhirinovsky outlined the current political situation in Russia in the light of medical science. He said, "LDPR is the only party that can hold out against the signs of natural selection I can see in Russia." Zhirinovsky stated, "LDPR has achieved a lot for 17 years of its existence. We have achieved rearrangement of our state, appearance of federal districts, the enlargement of federal entities, the improvement of our democracy. We have achieved that the law introducing paid education for senior pupils in comprehensive schools was not passed; the removal of the most unsuitable Minister of Foreign Affairs Kozyrev; prevented the civil war in 1993, 1996 and 1999. But we are not the party of power, so it is difficult for us to have our bills passed, as the majority of votes do."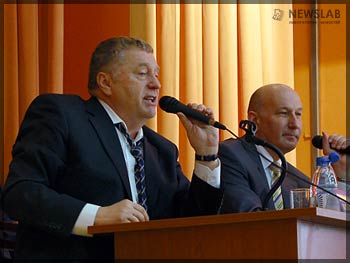 Vladimir Zhirinovsky was asked about one hundred questions about education, healthcare, and politics by students and teachers.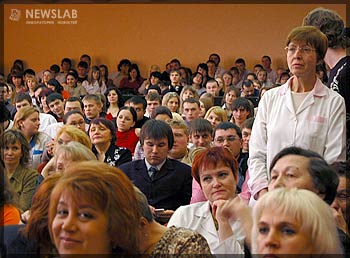 A woman attending the meeting urged LDPR leader to help her grandson, who was seriously ill but was called up to the army despite his illness. Zhirinovsky asked the State Duma Deputy of LDPR Vladimir Ovsyannikov to write down the woman's telephone and help to organize the treatment of her grandson.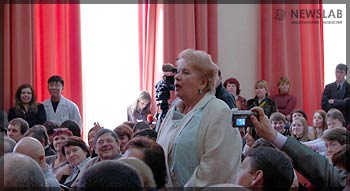 In the end of the meeting the Medical Academy President Ivan Artyukhov complained of vital necessity of building a separate library for the high school. The project had been approved by Healthcare Minister Mikhail Zurabov. However, its implementation had not started yet. Vladimir Zhirinovsky promised the academy would get a new library by 2008, and LDPR would render assistance to it.